Production
Mustard «Aroma» 10 g - 25 g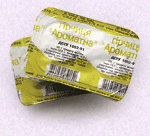 Mustard «Aroma» (hot mustard) — nice addition to meat, hot-dogs, hamburgers
A little bit of history:
adding seeds of mustard as species is known from time immemorial and is described in Indian and Shumer texts a century BC. Mustard as a vegetation is often mentioned in the Bible. A tiny seed of mustard in New Testament is a symbol of belief. The plant was used as a medicine by Hippocratus and other ancient healers. Nowadays mustard is the mostly used species in the world trade.



Ketchup «Dneprovskiy» 10 g - 25 g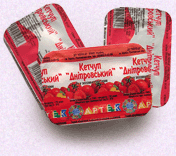 Ketchup in assortment (10-30 g) will bring fish, poultry and meat dishes a pleasant and unforgettable taste.
Some history:
ketchup is called the king of sauces. Many people think that ketchup was invented by Americans but it's one of the myths escorting the history of ketchup invention. The word «ketchup» was sooner taken from the Chinese word (ke-tsiap) meaning «marinade for fish or sea products». Unbelievable, but the fact is the oldest remained recipe included everything but tomatoes - anchovy, nuts, mushrooms, haricot. Chinese name came to England at the start of 160 AC but only in 1711 it became known as «tomato sauce».


Mayonnaise «Provansal» 10 g - 25 g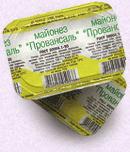 Some history:
Appearance of mayonnaise sauce is covered by secret veil and its history is told differently. One of the legends tells that Risheliyer the Duke in 1757 was besieged by Englishmen at the town of Mayonne. The besieged struggled to death and town walls were impenetrable. But little by little food reserves in the town came to an end. There were only eggs, lemons and olive oil. For the Duke who though was a man of war but and an adept at cuisine, this menu appeared more hard than the besiege itself. A poor cook with the risk to be punished for such a diverse cuisine. Mixed available ingredients (olive oil and eggs, species, lemon juice) and the Duke was… conquered by a new taste.


Condensed milk 10 g - 30 g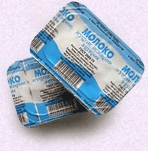 Why should you use substitute for cream to a cup of tea or coffee? You'd better take condensed milk. This way you will receive perquisite taste of your drink.
A little bit of history:
condensed milk is a rather young product. In 1809 Paris celebrated! One of its citizens named Nicola Fransua Upper received a high title of the Mankind Благодетеля! Everything started in 1804 when a modest Paris confectioner Upper accidentally found that if tightly closed bottle with juice is boiled, its contents do not get spoiled for a long time. Upper made an experiment after experiment and step by step understood that milk is better saved within canned bottles - they are not broken while boiling. Upper's invention was noticed by the modern mild production. Already in 1849 in the USA the first machine making condensed milk with sugar was invented.
Natural honey from flowers 10 g - 30 g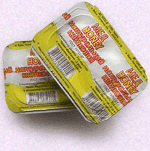 We suggest natural honey to the cup of tea - this is very useful and tasty!
Some history:
honey was used by ancient men. Greeks added honey into wine. Hippocratus, Galen, Avicena wrote about honey. There are detailed stories of honey-healing in ancient medical literature. Ancient Egypt used honey as well. Ptolomey Lag carried the body of Alexander Macedonian for the burry from the Babylon to Alexandria in honey during the hot summer of 332 BC. Ancient Russian honey history is very rich too. Ancient botanists were the first to use it. Such names as Debora, Dora, Dorophey come from the word of "debor" (the ancient word for honey). In the 12th century Eulampia, grand-daughter of Vladimir Monomah, published the work "About Honey". As it is said, Ilia Muromets, Russian bogatyr, has stood from the oven where he has been sitting for 33 years only when he had drank a healing honey drink.
Natural honey 125 g - 250 g
You will like natural honey in a polystyrene glass both for its price and comfortable use at home and while on your way.
Butter «Fermerskoe», «Poltavchanka» 10 g - 30 g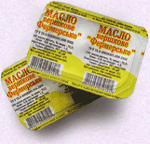 Butter is made under the common butter technology with addition of 5% palm oil to prolong its term of usage by 1.5 months. By its taste our butter is not inferior to the best sorts of butters.
Some history:
the history of butter, it seems, started with the pictures made on stone plates in Mesapotamia dated 2500 BC and resembling stages of butter production. Traces of butter are found in India 500 years later after the onslaught of military Arian tribes. A vase full of butter was found in Egyptian grave dated older than 2000 BC. Concerning the well-known Norman butter it seems to be made by Vikings who lived Norman Land - their first motherland. But due to the Middle Ages we have more serious historical resources mainly from the cooking books.
Fruit jams 10 g - 30 g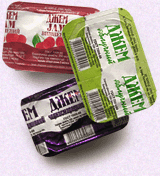 Fruit jams in assortment (plumb jam, cherry jam, apple jam, black current jam). Fruit jams are made from natural fruits. Jams do not contain food aroma additions.
Some history:
English cuisine is famous for its traditions. Everybody knows traditional English breakfast of oatmeal and a toast with jam. There are unfortunately no correct data as about the first time jam was made. But it is well known that this product which resembles our fruit «povidlo» (jam) has come from England. As a classic said: «I can live through a misty cold morning in England only if I drink tea with jam from Seville oranges...». But jam was popular not only with classics. For instance in 2003 chief cook from London named Jan Cristof Novelly who was an adept making special dishes for British bohemia, made the most valuable sandwich in the history of culinary art and the basis of this sandwich was JAM from red current under the recipe of the 14th century
Drinking water 100 g
We offer drinking water poured into a euro-glass covered with aluminium food foil. It is recommended to be used at airliners, trains.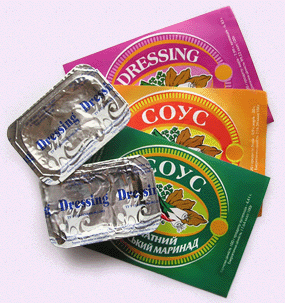 Elite sauces 23 g
Elite sauces are rare products for using to culinary dishes of meat, fish, poultry and etc. with the purpose to give these dishes additional tasty qualities.
Dressings 23 g
Elite dressings (23 g) are salad sauces recommended as a tasty adding while making vegetable salads and salad cocktails.
Dried fruits Ukrainian 150 g—2 kg
Dried fruits Ukrainian - this is dried up on special technology apple, pear, plum and another. Which are recommended to be used for compotes, the jelly, different drinks and another.
We pack up walnut 100 g - 2 kg
Walnut, the cleared (pack up) - this is high-calorific product and recommended to be used for preparation of various dishes.